INTER PROVINCIAL MINISTERIAL GROUP
Women's Development has been constituted which will meet periodically to agree on key priorities for gender equality in line with international commitments.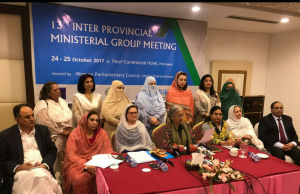 This group has members from provincial ministries of women development, National Commission on the Status of Women and Ministry of Law, Justice and Human Rights, an official at the law ministry said on Sunday. Furthermore, national consultations were also conducted to finalize policies and packages for the welfare of women. These include Women Empowerment Package, Domestic Violence (Prevention and Protection) Bill 2013, and Hindu Marriage Bill.
Scope of IPMG Meetings
Share experiences and peer learning
Develop strategies for implementing government's gender agenda in the light of Pakistan's national and international commitments, particularly CEDAW
Initiate process of establishing independent WDDs and strengthen them to assume a stronger role towards ensuring women empowerment and to enable gender equality within their respective provinces
Undertake joint leadership capacity building measures and training for advising and implementing national and international commitments;